Fabric Sofa Care: How To Clean And Maintain Your Chesterfield
April 12 2023 – Glen Lim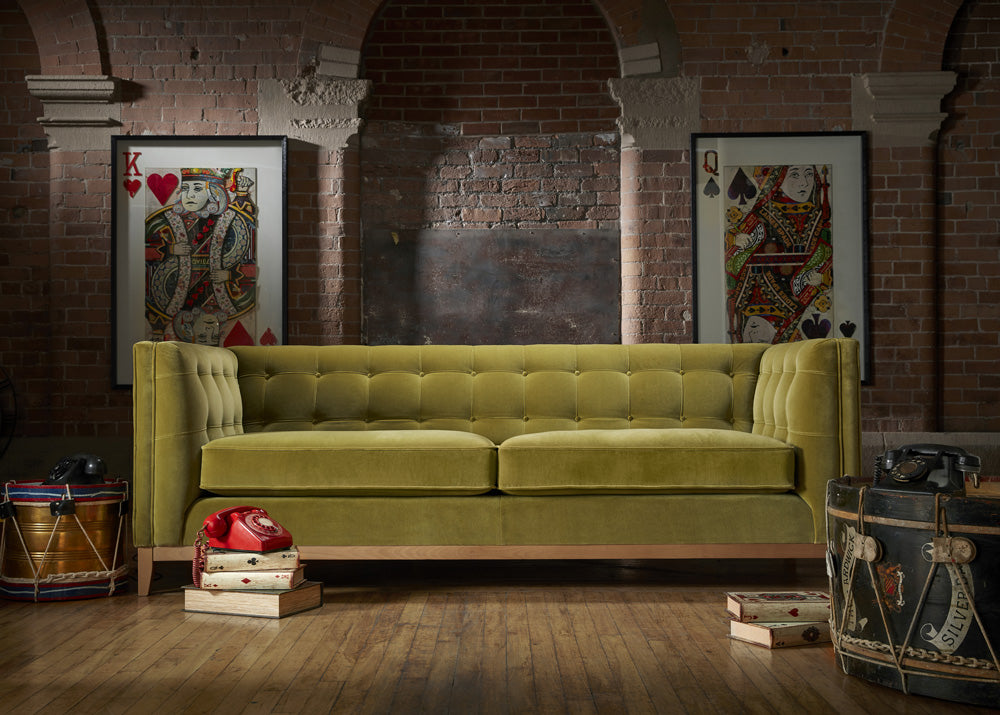 Choosing a fabric Chesterfield sofa is a great choice if you are looking for a softer, more contemporary piece for your home. However, many people believe that by opting for a Chesterfield in anything other than leather, you are sacrificing many of the hard-wearing qualities that it is known for. This isn't true — with the right care and attention, your fabric sofa can last just as long as any other material.
Please be aware that dye from none colour fast clothing and garments can transfer onto leather/fabric and is usually more noticeable on light leather/fabric colours such as whites, creams and ivory. We also recommend to always check your labels on your clothing and garments for further information.


With this in mind, we've put this guide together to help you clean and maintain your fabric Chesterfield sofa. This way, you will be able to enjoy its fantastic good looks for many years to come. Read on discover more.
Clean your fabric Chesterfield sofa regularly
Your sofa needs regular cleaning to always look and feel its best. It's incredibly important to do this with fabric, as the fibres can collect dust and dirt particles and keep them hidden from the naked eye. Your sofa may appear to be spotless, but they might be lurking just below the surface.
However, you can follow our easy steps for regular cleaning that will help to keep the dust and dirt at bay. You should look to carry out this routine at least once every fortnight at a minimum.
Use a hoover to go over every inch of your sofa's fabric upholstery. This will remove nearly all of the loose crumbs, dust, and dirt. It's recommended that you do this gently with a soft brush attachment, especially if you have a delicate material like velvet, as this will protect the fabrics from damage.
If you are carrying out a quick clean, the next step is to take care of any grime or marks you find with a damp cloth. Once or twice a month, you will want to clean more thoroughly using a fabric-friendly cleaner like the Mild Fabric Foam Cleaner included in

 

our fabric cleaning kit. Apply it with a tiny bit of water, being careful not to soak the upholstery, before leaving it to work its magic.
Finally, allow your Chesterfield to dry naturally before using it again. This is to make sure your sofa fabric does not crease, which can mean having to start again. You can speed up this process by opening a few windows and doors to encourage a natural breeze to run through your home.
Cleaning loose covers on your fabric Chesterfield sofa
Many of our fabric Chesterfields have loose covers that can be removed and cleaned on their own. Not only does this allow you to access all the crevices of your sofa, but it also allows you to machine wash or have the covers dry cleaned (always check the care label before doing either of these things). If you wash the covers by hand yourself, it's a good idea to allow them to dry on the sofa when still damp. This makes sure they will conform to the cushion's natural shape without any unsightly creases.
Don't forget to brush velvet Chesterfields regularly too
While most fabric Chesterfields just need a regular cleaning regime, a velvet Chesterfield needs some extra special attention to keep it looking lush. You can help to maintain this material's natural sheen by going over it with a clothes brush or a specialist velvet brush. Soon, your sofa will develop a 'crushed' velvet look, which will only enhance its antiqued appearance as time goes by. It's easiest to brush your sofa once you've hoovered or cleaned it.
Position your fabric Chesterfield to avoid sun and heat damage
Like leather, fabric upholstery is susceptible to heat and light damage from the sun and other sources of warmth in your home. With prolonged exposure to sunlight, fabric can fade, become bleached, and lose its natural qualities. At the same time, heat from radiators and fireplaces can cause warping and drying out. Consider this when thinking of where to place your sofa — a spot without too much sunlight each day and away from sources of warmth is the best place if possible.
Plump up your sofa's cushions each day
We've touched on routines that will keep your fabric Chesterfield's upholstery clean, but you also need to make sure that your cushions maintain their shape to look good and give you a high level of comfort. Maintaining the natural form of your sofa couldn't be easier — simply plump up your seat, arm, and back cushioning at the end of any day that your furniture has been in use. This is particularly important if your cushion's filling is either feathers or fibres, which are more prone to becoming misshapen than foam, which springs back. Don't forget to give your scatter cushions or wool throw a plump or shake to keep them nicely shaped too.
How to deal with spills and stains on your fabric Chesterfield sofa
No matter how careful you are on a day-to-day basis, a spill on your fabric Chesterfield is bound to happen at some point. The important thing to remember is that a quick reaction to an accident can be the difference between a simple clean-up job and a stain setting in.
Removing the liquid from your sofa fabric before it can soak into the fibres can minimise any damage and should be your first priority. To do this, use a cloth or kitchen roll to blot up any excess before using a damp cloth to dab away any marks that are left. If you are quick enough, you are likely to avoid any staining or minimise any blemish.
Should a mark set in, it isn't the end of the world. Our fabric care kit also contains a number of removers to tackle both common and specialist stains. One of these is the Fresh Stain Remover, which is ideal for when you've done your best to soak up the majority of the spill, but some has marked your upholstery. The kit contains an Old & Resistant Stain Remover, which can be used on stubborn stains that you've been trying to clean for a while. It also has a Grease & Oil Stain Remover, perfectly formulated for taking on trickier spills of oily food and drink.
We recommend that you always use these products over the ones that can be bought in supermarkets, as store-bought items often contain chemicals that can damage your fabric. For stains that are just too difficult to remove at home, we advise that you seek the opinion of a professional cleaner, who will be able to use deeper cleaning methods that won't damage your upholstery.
Caring for your fabric sofa from Timeless Chesterfields
When you order a fabric Chesterfield sofa, chair, corner sofa, sofa bed, or footstool from Timeless Chesterfields, you will be investing in a quality piece that has been upholstered in one of the fine materials in our fabric collection. You will be able to cherish your furniture for years to come, and many will begin to look even better as they begin to antique and pick up character with age. This makes them well worth caring for and maintaining correctly.
If you follow the advice in this guide, you will be able to keep your fabric Chesterfield in the very best condition. Should you have any queries about the advice in this guide or need help with the care of your furniture, don't hesitate to contact our team who will be able to assist.
If your Chesterfield has a both a leather and fabric upholstery, you may also be interested to read our leather care guide.