Leather Sofa Care: How To Clean And Maintain Your Chesterfield
April 12 2023 – Glen Lim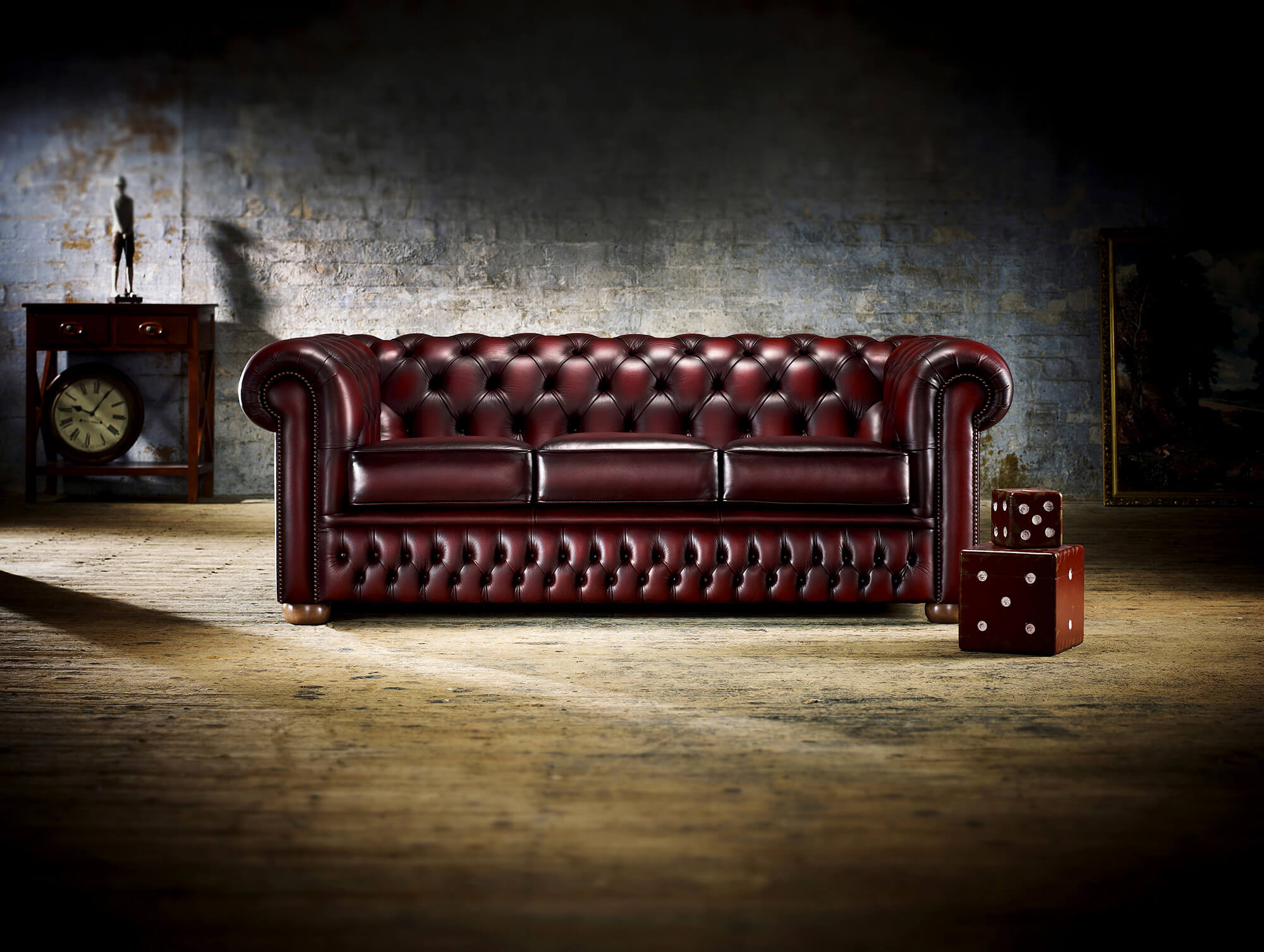 When you order your leather Chesterfield sofa, you've made an investment that can last a lifetime.  Leather is a material that looks better and better as the years go by, maintaining its elegance while developing character as part of your home décor.
However, to ensure that this is the case, you will need to give your new piece the right care and attention. Although leather is often unfairly labelled as being high maintenance, the truth is that with a little bit of know-how you can easily keep your furniture in superb condition.
To help you out, we've put together this guide to cleaning and maintaining your leather Chesterfield so you will be able to enjoy its beauty for many years to come. Read on to find out more.
Regularly clean your leather Chesterfield (the right way)
Even though your leather sofa is very durable, without a regime of regular cleaning it can begin to look tired and dirty. To remedy this, you need to make sure that you clean it often and in the right way.
Once or twice a week (depending on how frequently you use the sofa), put time aside to tackle your sofa. Remember to treat the entirety of your sofa and chairs for an even finish.
Follow these steps:
Use a clean, soft cloth to dust off your

 

Chesterfield

 

and get rid of any loose particles. You can use a vacuum with a soft brush adapter to speed this process up — this is a particularly effective way of getting into the cracks and crevices of your sofa and removing any dust or dirt.
Use a damp cloth to wipe down all the surfaces of your leather sofa. If possible, use distilled water to do this, as chlorine found in most tap water can slowly degrade the finish on the surface of your leather. Before doing this, it's best to test your leather in an inconspicuous area to see whether it just absorbs the water, as some types can become marked if too much is applied too quickly. If it does use a dry cloth instead.
Once a month, it's best to use a specialist leather cleaning product to go over the entirety of your sofa. Avoid using all-purpose cleaners, wipes, and sprays on your Chesterfield as these may damaging its surface. We recommended the use of the soft cleaning solution available in our

 

leather cleaning kit, which is a gentle but very effective product suitable for all aniline, semi-aniline, and pigmented sofa leathers
Please be aware that dye from none colour fast clothing and garments can transfer onto leather/fabric and is usually more noticeable on light leather/fabric colours such as whites, creams and ivory. We also recommend to always check your labels on your clothing and garments for further information.
Keep your leather Chesterfield conditioned
An essential part of keeping your Chesterfield sofa in the best shape possible is regularly conditioning it. Leather contains natural oils that help to keep it soft and supple, though they can often become diminished after a period of regular use. A good conditioner will rejuvenate the oils in the leather, preventing it from drying out and reducing the chance of it creasing or cracking.
As part of our cleaning kit, there is a protection cream that will both condition and preserve your sofa. The cream will make sure your upholstery stays nice and healthy, while also applying an invisible barrier that will protect it against spills or stains. For semi-aniline and pigmented leathers, it will ensure the material's protective coating withstands the rigours of daily use. In addition, stains will be easier to clean off and dye transfer and abrasion damage can be minimised. For aniline leathers, this cream makes sure they retain their moisture content and are protected against spillages.
Consider the positioning of your leather Chesterfield
Conditioning your sofa regularly is essential, but you should also consider what can often be the root causes of poor, unhealthy leather. When it is exposed to direct sunlight or a source of heat for prolonged periods of time, leather can fade, stiffen, and crack, ruining the look and feel of your beautiful Chesterfield. With this in mind, it's best to think ahead about where you will place the sofa in your home. Avoid spots that get a lot of sunlight or are next to a fireplace, radiator, or air conditioning unit. Your sofa can still have some exposure to these, but it will become an issue if it is constant.
Buff your leather Chesterfield regularly
Unless your leather Chesterfield sofa has a matte finish, it will have a natural shine that you will want to preserve throughout its lifetime. To make this happen, you will need to regularly buff your suite with a microfibre or soft cloth, which will ensure the leather does not wear down to a tired look. Not only will your sofa look great, but gentle buffing will help to diminish minor scratches and scuffs too. Aim to do this after each weekly cleaning, or at least once every other week.
Aim to plump your cushions at the end of the day
While keeping your leather upholstery clean is very important, so is keeping your Chesterfield's natural shape. A well cared for sofa will keep its shape for the entirety of its lifetime, offering comfort and support for many years. Keeping your piece in shape couldn't be easier either — simply take the time to plump your seat, arm, and back cushions at the end of each day. Doing so will also help to avoid any unwanted creases forming over time by refreshing the shape of the cushion. This is particularly important if your Chesterfield has a feather or fibre filling. If you have any of our throw cushions or wool throws, don't forget to take a moment to plump or shake these too.
Dealing with a spill on your leather Chesterfield sofa
Even though leather furniture is hardier than other types, they are still prone to staining and discolouration if you do not react quickly and in the right way. If a spill occurs, the first thing you need to do is remove any excess liquid from the surface of the leather.
With a dry cloth or kitchen roll, you need to carefully blot the area — this is the most important thing to remember, as wiping can help the stain or discolouring to set in. A quick reaction can ensure spills are absorbed before they do any real damage to the leather surface. If simply blotting is not enough to clean a spill, a damp cloth can be dabbed to the spot. Take note that any greasy or oily spills, such as those from food, can be made worse with water. Avoid using any if this happens.
Keeping a good cleaning product at hand is very important if you own a leather sofa, as it will allow you to deal with most spillage straight away and prevent most stains from setting in. If you haven't owned leather furniture in the past, it's best to get into the habit of keeping a good stock of cleaning product stored where you can access it quickly. Test any new product on an inconspicuous section before first using it, just to be sure it will take to your upholstery without damaging it.
How to get stains out of leather
Sometimes the worst happens, and a spill or accident takes place that you don't know about or can't react quickly to — this can lead to a stain setting in. Depending on what type of substance caused the problem, a more specialist course of action may be required to get rid of it. Let's take a look at some common sofa stains and how you can approach their removal.
Ink stains
If you accidentally drop a pen or marker onto your sofa, you might end up with an unsightly line or patch on your leather. A quick reaction following our general advice for spills can save the majority of the ink staining your leather, but there is always a chance you won't get all of it. If this is the case, seek professional cleaning advice as it will need specialist care.
Grease or oil stains
As we've mentioned, grease or oil stains are a difficult one if you don't deal with them immediately. If this is the case and the stain has become ingrained in the material, it's best to seek advice from a professional sofa cleaner. They might have to use specialist stain removal methods to remove the blemish without damaging the surface of the leather.
Red and white wine stains
Again, a quick reaction can make the removal of red and white wine stains on your leather sofa fairly painless. First, use a cloth to blot up excess wine. Then, mix a solution of water and mild soap, swishing the bowl to create a lot of suds. Apply only the foam to the stain with a sponge, dab away the excess with a damp cloth, and wipe the area dry. Following this, condition your sofa to create a healthy and even finish. If the wine stain persists, you should consult a professional who will probably have to use deeper cleaning methods to get rid of blemish.
Please be aware that dye from none colour fast clothing and garments can transfer onto leather/fabric and is usually more noticeable on light leather/fabric colours such as whites, creams and ivory. We also recommend to always check your labels on your clothing and garments for further information.
Be wary of less obvious dangers to your leather Chesterfield sofa
Keeping your leather Chesterfield sofa free of spills can be a challenge, but you also need to watch out for the less obvious dangers to your upholstery. One of these is the unsightly marks materials that aren't colour fast can leave behind. These types of cloth do not hold their colouring very well, particularly when damp or wet, and can transfer to your leather and leave a mark. If you know of any belongings, such as clothes, cushions, or throws, which are like this, it's probably best that you keep them away from your sofa.
Be aware of anything that could potentially scratch your leather, such as keys, scissors, or even studs, buttons, and buckles on your clothes. If you move too quickly or forcefully with one of these pressed against your upholstery, there is a good chance that a large scratch will appear on your leather cushioning.
It's also worth taking into consideration the fact that any family pets that may have spent time on previous sofas, could accidentally scratch your new leather Chesterfield if they are allowed up. It all comes down to how you feel about your pets spending time with you on your new suite.
Caring for your leather sofa from Timeless Chesterfields
Here at Timeless Chesterfields, we can upholster our Chesterfield sofas, chairs, sofa beds, corner sofas, or footstools in one of the premium materials from our leather collection. They will give you years of comfort and will continue looking great as long as they are properly maintained.
By following the advice in this guide, you will be able to keep your leather in the very best condition. Should you have any questions about this guide or need further care advice, get in touch and our team will be happy to provide some valuable advice.
If your Chesterfield has a both a leather and fabric upholstery, you may also be interested to read our fabric care guide.